Disclosure: In any review for a product or service, products or compensation may have been provided to me to help facilitate my review. All opinions are my own and honest. I am disclosing this in accordance with FTC Guidelines. Please see "Disclose" and "Terms of Use" tabs for more information.
Now that the holidays are past us and Valentine's Day is just around the corner, the question on many a woman's mind is "What am I going to wear?" Most women are looking for something sexy and more glam than their usual out-on-the-town outfit. There are endless possibilities when it comes to putting together a trend-setting outfit. Be creative with your style. The most romantic date night of the year should celebrate your individual style. Don't be afraid to drape yourself in decadence with fabulous accessories and detailed dresses. From sequins to silk, from leather to denim, have fun with your style this Valentine's Day.
A super-popular old-school look is the good-old fit-and-flare style for dresses. Popular in casual and dressy styles, this look stems from the "skater chic" that was so popular in the fall. As we entrench ourselves into the cold months of winter, hems have become a bit longer. To really exaggerate this hourglass silhouetted, try a crinoline slip.
If pants are more to your liking, the popular choice this season is skinny, skinny, skinny. If that look isn't for you, however, try a 1970s-influenced bell bottom boot cut pant.
Check out the items below for some specific outfit ideas:
Start with this adorable textured black mini skirt. This classic style is also fun and flirty. Pair it with a sexy top and strappy sandals if you are in warmer climes. If its winter temperatures you'll be dealing with, however, tights—try some with a little shimmer—and high-heeled boots will keep you warm while still looking sexy. Or try some textured tights and an ankle boot for something a little edgier!
A patterned, silky skirt will offer you plenty of variety in terms of tops and shoes you can pair it with. With a sexy tank top, you'll be ready for a night on the town. Add a camisole and jacket, and this skirt will take you to the office in style.

Some other skirt styles you might want to try are those with pretty accents such as ruffles, lace, or ruching details. There are styles that will compliment every type of shape and size. If you want to be a bit more casual, try a denim pencil skirt in either a high or low waisted style, depending on your preference. You can pair this with flats or boots and a cute tee.
Check out this top, which can be dressed up or dressed down, depending on the occasion. The sequins on the shirt will help your dressier persona comes through. Much like wearing red at Christmas, wearing sequins for Valentine's Day never goes out of style.
Another suggestion for Valentine's Day outfits might include something simpler, such as this sophisticated dress. Some of the season's trendiest styles include detail such as a cowl neckline, or a carefree sheath or shift style. Lengths run the gamut from maxi dresses to full-length dresses to cocktail-length styles. Whatever you decide, be sure to add some fun, bling-y accessories to dress up the dress! Don't forget to consider color—the bolder the better. These are hot this season! Monochromatic is big with lush colors like rich navy, ink black, and forest greens. And the added benefit of the one-color look? It's slimming enough to hide any indulgences leftover from the holidays!
If you're on a tight budget when it comes to date-night apparel, consider investing in a killer pair of pumps like those pictured here. Sparkly and festive, these will go a long way in dressing up a little black dress that might already be in your closet. Or try a pair of skinny jeans and a simple tank top. However you wear them, these pumps will spice up any outfit.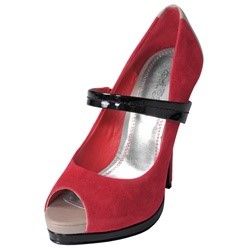 These are a fun and festive pair of peep-toe pumps. Not only are they quite adorable, they are extremely and versatile. The red fits quite right with the Valentine's Day spirit!
Overall, the look for Valentine's Day is fun, sexy, and just a little bit over the top. Celebrate with your sweetheart in an outfit that represents your very own unique style!
My Fashion Corner is pleased to bring you this article on 'What to Wear This Valentine's Day'. My Fashion Corner carry a large variety of clothing, apparel, boots, shoes, handbags, sunglasses, and many other fashion accessories to make any style complete. If you are interested in seeing what they have, be sure to check out their website at http://www.myfashioncorner.com.